Building a sustainable plumbing business is no easy task. A host of things can go wrong because plumbing plays such an important role in everyday life. If you offer plumbing services, it is important to be aware of the potential risks and take adequate steps to protect the business from insolvency. Here's an example.
Your business just finished a commercial project. Within a few days, some of the pipes burst, leading to leakage in the client's office. It is discovered that there is an error in the execution of the project. The client places a claim with your business or decides to sue for damages.
Events such as accidents, errors, and property damage are inevitable in the plumbing business, no matter how careful you are. Investing in plumbing insurance can protect your business from financial liabilities.
In this blog, we outline the potential risks and recommend important pillars of plumbing insurance that can protect your business.
The Potential risks
Several things can go wrong with plumbing projects. Often, they are due to factors outside of our control. Here are some examples of common occurrences:
Slips, trips, and falls can occur during a plumbing project, leading to injured crew members. Electrocution is another common occurrence, which results in injuries. Workers may need to be hospitalized, and the business must bear medical expenses.
During a project, residents of the property may trip over some tools and sustain injuries. The client may then present a claim or sue for damages.
A visitor to your office premises may sustain injuries due to a slip and fall incident. The visitor decides to make a claim or sue for damages.
Your office houses key equipment, computers, furniture, and appliances, which get damaged due to a vandalism attempt. You need to replace or repair them, which costs a significant amount.
After completing a project, a pipe bursts and floods the property. The client is now suing for property damage due to your business's negligence.
Your business is starting a new project. On the way to the job site, the vehicle meets with an accident and is damaged. The other driver is uninsured.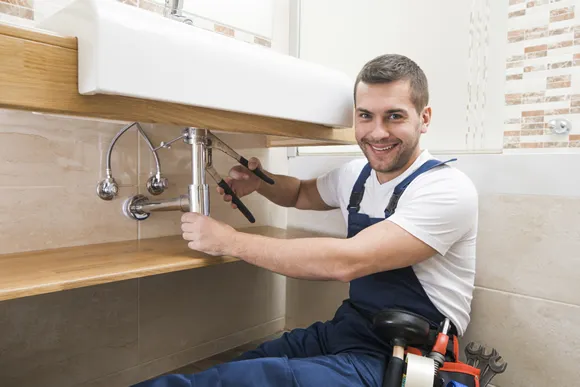 Each of these events comes at a financial cost. They can disrupt operations if not attended to immediately. Investing in adequate business insurance for plumbers helps plumbers pay for legal fees and other expenses.
Types of Business Insurance For Plumbers
Businesses offering plumbing services should consider taking comprehensive insurance to protect their businesses. Here is a run-down of the relevant insurance categories:
General Liability Insurance
This is critical business insurance for plumbers to protect them from claims made by others due to bodily injuries incurred, or property damage incurred by a third party.
For example, during a plumbing project, one of the residents of the property slipped on a puddle of water, hurting their back. The resident claimed negligence on part of the plumber because of the water left on the floor and decided to sue. Thankfully, the said plumbing service had general liability insurance to protect itself from severe financial losses.
Plumbing businesses engage with several third parties, such as clients, vendors, and individuals who frequent onsite projects. Typically, the suits are filed when third parties experience a bodily injury at the business premises, property damage caused by your business, and personal and advertising injury.
Contractor's Errors & Omissions Insurance
Trade contractors such as plumbers are susceptible to claims of negligence to the poor quality of work, a defective work product, as well as damaged property.
For example, one of the workers of a plumbing service did not tighten the hex joints well enough. This led to leakage and damaged parts of a wooden floor. When the client sued for damages, the plumbing contractor's E&O insurance was handy.
Sometimes the error of a plumbing contractor may be noticed after several months when there is a breakdown. This is when contractor's errors and omissions insurance comes into use in protecting the business. This type of insurance covers defense costs, and damages incurred.
Business Owner's Policy Insurance
This combination insurance product covers both general liability as well as business property, for your company.
For example, a thunderstorm damaged the roof and left the office space of a plumbing service severely damaged. It also damaged some materials that were purchased for a new project. The Business Owner's Policy helped the insured with claim payment funds to make repairs and replace damaged property, thus reducing operational interruptions.
Commercial Auto Insurance
Any business that has vehicles titled in the business name and uses them for business operations should get commercial auto insurance.
To understand better, let us take the example of a plumbing company that suffered severe damage to its transportation van after a collision. The other driver was also injured. Commercial auto insurance came to their rescue as it covered bodily injuries, third-party damage, medical expenses, and damage to both vehicles since the plumbing employee driver was found to be at fault for the crash.
Workers' Compensation Insurance
Like any other business, those providing plumbing services are exposed to employees getting injured on the job. Being prepared is very important for managing expenses in the event of an unfortunate incident.
For example, in the case of a plumbing service company, workers' compensation insurance was claimed when an employee fell off a ladder while fixing an overhead pipe. The compensation covered the medical expenses to treat a rather serious fracture and also provided some relief for the lost wages while the employee recuperated.
Workers' compensation insurance covers the medical and hospitalization costs, and a percentage of lost wages for the duration when the employee is unable to work. It may also come with disability benefits and death benefits to a worker's family, depending upon the statutory benefits in your state.
The Takeaway
Plumbing insurance plays an important role in helping businesses build resilience, and stay open for the long term. There are several risks involved in this field of work, and it is best to be prepared at all times. InsuranceAdvisor understands the challenges of the plumbing industry and can provide guidance, tips, and insights to help businesses choose the right insurance coverage.
We Are a Trusted Insurance Provider