As a landscape architect, your company must have insurance coverage in today's era. Your business needs protection from potential risk because of the demand for outdoor spaces, and your business is growing rapidly. Potential clients may have a heightened awareness of safety and liability issues and want evidence of your coverage.
Landscaping involves risks, including property damage, bodily injury, and claims of negligence or errors in your professional work. These risks can result in financial losses, damage to reputation, and even legal action.
Insurance's Role in Protecting Landscape Architect Businesses
As a landscape architect, mitigating potential risks and liabilities in your line of work is essential. One effective way to do so is by purchasing insurance coverage that promises financial protection, legal defense, and security to you and your clients.
Appropriate coverage allows you to focus on designing beautiful outdoor spaces without worrying about the potential risks and liabilities associated with your work. If you're a landscape architect looking to protect your business from potential risks and liabilities, it's worth exploring different types of insurance coverage, such as:
General liability Insurance
Landscape architects must have general liability insurance to defend themselves against property damage, bodily harm, and personal injury claims. It can assist in safeguarding your company from unexpected accidents and incidents that may occur on your projects and provide financial protection and legal defense if a claim is filed against you.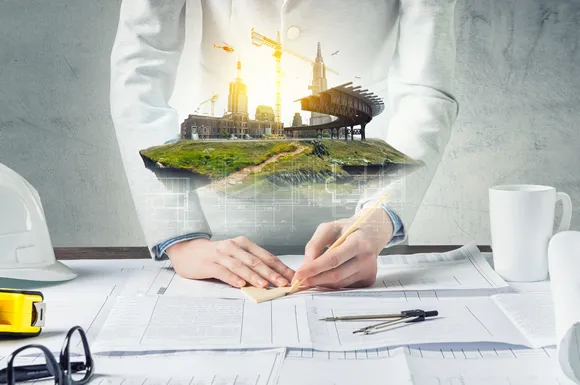 For example, if a client trips, falls, and hurts them self while visiting your job site, general liability insurance could cover the damages awarded, provide defense and pay court fees if the client decides to sue.
Commercial Auto Insurance
Business auto insurance generally covers business-owned vehicles used for commercial purposes. These could include trucks or other vehicles used to deliver goods and transport equipment and tools to and from job locations for landscape architects. Having business auto insurance protects the business from claims of property damage and bodily injury liability claims and lawsuits caused by accidents involving your at-fault driver in a company vehicle.
For instance, if your employee is driving to a job site and accidentally collides with another vehicle because a stop sign was not obeyed, commercial auto insurance could help cover the cost of repairs and medical expenses for injuries sustained by the other driver.
Tools and Equipment Insurance
Tools and equipment that landscape architects use are covered by a particular kind of insurance called tools and equipment insurance, a type of Inland Marine coverage. Because these items are mobile, there would not be coverage for them under a commercial property policy when they are away from the business location. Mowers, edger's, blowers, trimmers, and other equipment would fall under this category.
For example, if your business's tools and equipment are stolen or damaged on a job site, tools and equipment insurance can help cover the cost of repairing or replacing the items.
Professional liability Insurance
Professional liability insurance, often known as errors and omissions insurance, protects landscape architects from claims of negligence, errors, or omissions in their professional work that cause a financial loss to their clients.
For instance, if a client claims that your design delay caused a loss of revenue in their operations because they were unable to open, professional liability insurance could help cover the cost of legal fees and settlements if a claim or lawsuit is filed. Additionally, if a client claims your work did not meet their expectations, this coverage could protect your business from your client's claims of financial loss.
Workers Compensation Insurance
Workers' compensation insurance covers the employer for payments related to employees' work-related injuries or occupational illnesses. It covers medical expenses, lost wages, and other expenses related to the injury or illness.
As a landscape architect, you may have employees who work for you, such as landscape installers, designers, and horticulturists. If one of your employees is injured while working on a landscaping project, they are eligible for workers' compensation benefits.
If your employee is injured while operating a heavy piece of equipment or suffers a broken leg and requires surgery and rehabilitation, workers' compensation responds.
Without workers' compensation insurance, the employer is responsible for paying the employee's medical bills, lost wages, and other mandatory benefits out of pocket.
Essential benefits of investing in Landscape Architect Insurance
Financial protection: It protects against potential financial risks and losses during business operations. This includes damage or loss to property, such as equipment and materials, and liability for accidents and injuries that may occur on the job.
Legal protection: It helps you comply with legal and contractual requirements for your business. This can include requirements for liability insurance coverage, as well as compliance with specific regulations and contracts.
Cost-effective: Insurance is a cost-effective risk management solution. It provides coverage at an affordable premium, which can be more cost-effective than paying for potential losses and liabilities out of pocket.
Peace of mind: Having landscape architect insurance provides peace of mind for you and your clients. Knowing that you have the necessary protection to handle unexpected events can give you and your clients reassurance and confidence.
Final thoughts on Landscape Architect Insurance
Landscape architect insurance protects your business against potential risks and liabilities in today's ever-changing landscape. However, choosing the right small business insurance coverage can be daunting.
That's why working with an experienced insurance agent is crucial in determining your company's insurance needs and ensuring you have the appropriate coverage to meet those needs.
We at InsuranceAdvisor.com offer a range of commercial insurance options designed for landscape architect businesses. Our comprehensive quotes, easy payment options, experience, and knowledge of the industry make it easy to find the right coverage to fit your business needs.
Frequently Asked Questions about Landscape Architect Insurance
1. Why do landscape architects need business insurance?
Property damage and bodily injury liability claims can cost landscape architects a lot without proper insurance. Insurance can cover costs associated with bodily injury and property damage liability incidents, employee injuries, professional negligence, defense costs, court fees, and loss settlement.
2. How much does landscape architect insurance cost in the USA?
The cost of business insurance for landscape architects can vary based on factors such as type of coverage and the amount of coverage. Generally, it is recommended to purchase a general liability policy that covers at least $1 million per occurrence. An average annual premium for a landscape architect's general liability is $350, or $30 per month.
3. What risks could Landscape Architects face?
Landscape architects may face risks such as bodily injury, property damage, personal injury liability, cyber risk, injured staff, and professional negligence. It is important to understand the potential risks and select the appropriate insurance coverage. Commercial property insurance is also advised if a landscape architectural firm has office space and equipment.
We Are a Trusted Service Provider