Business Owners Policy Workers Compensation Insurance Professional Liability Insurance Umbrella or Excess Liability Insurance
What is Accountant Insurance?
Certified Public Accountants (CPA), auditors, bookkeepers, and tax preparers play a vital role in managing the finances of businesses and individuals. A tax filing error or incoherent financial records can leave your business prone to lawsuits and financial burdens. Damage to your office building and lost records may also cause you to close your practice. Accounting can be considered a low-risk business considering the property and public liability risks, although the risks of professional liability insurance for CPA may weigh your small business down. Accountants across the country face similar issues while running their business.
A typical CPA insurance program for Accountants include Business Owners or Package Policy, Professional Liability, Workers' Compensation and Cyber policies. These are the basic coverage types recommended to protect your employees and the business from loss. A BOP or Package policy will include the General Liability and Property coverage for owned buildings and business property and the option to include employee dishonesty and business interruption and extra expense.
Primary Risk Assessment For Accountant Insurance
Accountants and auditors face several risks and challenges while working as individual entities or with a team.
Scenario 1 - Your home office burned down by fire. All the important documents are gone, your computer is also a total loss. The clients hold you responsible for the hard copy and electronic documents they had submitted to you and want them recovered. There will be time and money spent recreating those documents. The BOP typically includes coverage for valuable papers and reconstruction expenses.
Scenario 2 - Your employee made a mistake in filing tax returns for a multinational company that has been a long-term client. The client sues your accounting firm for professional negligence and substantial financial loss.
Scenario 3 - A client visiting your office comes in and slips and falls on a wet floor, breaking his hip and is unable to work or travel for business. He sues your firm for negligence, medical costs, and lost income.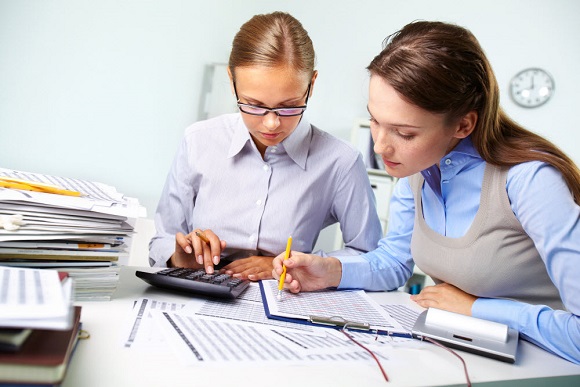 Accountant Insurance Recommended Policies
Business Owners Policy (BOP)
Business Owners Policy is a holistic, customizable insurance policy that bundles the basic insurance needs as follows:
Commercial Property Insurance
This includes coverage for owned buildings and the contents of the accountant's office such as computers, calculators, furniture, and other equipment for loss or damage by covered perils.
Business Interruption & Extra Expense Insurance
Business Interruption and Extra Expense covers the repercussions your accounting business may face as a result of direct physical damage to your premises by a covered peril. Based on the limit purchased and coinsurance percentage or monthly limitation, Business Interruption compensates for lost business income incurred because of the shut down of your business. An example of extra expense would be the additional cost involved with getting a new furniture shipment expedited from an overseas manufacturer or setting up a temporary office space while your building is being repaired or rebuilt.
General Liability Insurance
General Liability Insurance protects your Accountancy business from bodily injury and property damage liability claims resulting from your business operations at your premises or while doing business away from the office. Professional Liability Insurance for CPA
In a world where anybody can sue anybody, it is necessary to be prepared in case of an error or omission occurring in your business. Most professions requiring a license need this insurance to protect their business and employees for mistakes that cause your clients' financial loss. While general liability protects for bodily injury & property damage, think of your professional liability as protection for financial losses suffered by your clients resulting from errors or omissions in your work process. When you work so hard to provide high-quality services and financial advice to your client's, even minute mistakes may harm the reputation of your firm. Fast and decisive handling of Professional Liability claims is what you need to have if you hope to save your reputation and client base.
Workers' Compensation Insurance
Workers' Compensation and Employers Liability provides coverage for your employees while working, in the accountant's office or out meeting with clients. Most states require business owners have a worker's compensation policy (depending on the number of employees) that covers employees' injuries, pays medical expenses for injuies suffered on the job, a percentage of lost wages (typically 66 2/3%), and death benefits statutorily required in your state. The Employers Liability portion of the policy will pay legal costs to defend your business and judgments awarded in the event your employee sues your business for negligence.
Cyber Insurance
This policy is necessary for auditing and accounting businesses as these types of businesses deal with a huge amount of client personal and financial data. Data breach, cyber extortion, ransomware attacks, fraudulent bank transfers, client notificationand credit monitoring expenses as well as public relations and crisis management expense can all be included in a broad form Cyber Insurance policy. Do not operate your business without this valuable coverage.
Valuable Papers Coverage
This type of coverage helps you reproduce, restore, or replace records if they are damaged by a covered event. Records can be hard copy or kept electronically. Coverage includes extra expense incurred from additional manpower hours or costs incurred to replace lost records.
How Much Does Accounting Insurance Cost?
All businesses face different types of risk based on operations that are inherent in the industry and also individual business risk factors.
The cost of insurance for an accounting firm will also vary based on the following factors:
Annual revenue
Type of accounting & auditing services offered
Owned vehicles
Location of the office
Number of employees and annual payroll
Value of business equipment and property owned or leased
Who Needs Accountant & CPA Insurance?
All professionals in the financial and accounting industry benefit from these types of coverage. Some of the professions that Accountants Insurance is vital for are as follows:
Certified Public Accountants
Bookkeepers
Accountants
Tax Preparers
Auditors
Frequently Asked Questions (FAQ) about Accountant Insurance
1. What does Errors & Omissions Insurance (E&O) mean in accounting?
E&O insurance, also known as Professional Liability, for accounting services covers claims relating to the professional services performed (accounting, bookkeeping, tax preparation, audits, etc.) when an error, oversight or negligence causes a financial loss for your client.
2. What is CPA Insurance? Which Insurance should a CPA have?
CPA Insurance is a combination of insurance policies or coverage that protects accountants and CPAs from risks they are exposed to in their daily operations. Third-party property damage or bodily injury liability claims, professional liability claims, loss or damage to owned assets and more. A CPA should have General Liability, Professional Liability, Commercial Property, Cyber, Workers Compensation, and Crime insurance.
3. What are the benefits of Business Insurance for Accountants?
Accountants and Financial Firms Business Insurance benefits include protection from third-party bodily injury or property damage liability claims and lawsuits, reimbursement for damage or repair of owned assets for covered perils, replacement of net revenue when your business location has covered building damage preventing you from operating, protection for collateral of mortgagee, lessor or loss payee, medical care and lost wages for employees injured on the job, reimbursement for employee theft, coverage for cybercrime and overall minimizes the negative financial impact on the business of insurable events.
4. What is the minimum policy premium for Professional Liability Insurance for CPA?
In the accounting profession, professional liability insurance costs can range from $1,000 to $25,000 and up. There are too many variables that contribute to your premium cost to give a specific dollar amount. Many insurance companies have minimum premiums of $1,000, others $2,500 or more. The total cost will depend on the insurance types purchased, size of the firm, annual revenue, type of financial service offered, client type (personal or business), and payroll, owned assets insured, years in business, loss experience and if there are company owned vehicles. These are examples of the factors used to determine the premium.
5. Is Professional Indemnity insurance for Auditors the same as Professional Liability Insurance?
Yes, professional liability is the same thing as professional indemnity insurance. Also known as error and omissions insurance or malpractice insurance, it is a form of liability insurance that covers what general liability coverage does not. Professional liability pays for claims or lawsuits resulting from an error, omission or negligence in the performance of your professional service that causes a financial loss to your client.
We are a Trusted Insurance Provider