Lawn irrigation installation businesses are subject to risks because of the hazards of the profession. Say a residential installation project is underway, and a client's child is playing nearby. They trip over a trencher machine and sustain serious injuries. They are rushed to the hospital and now require admittance. The client may then sue the irrigation business for damages caused by the injury.
Early investment in commercial insurance can help your business recover from significant losses due to situations like these. This blog post delves into the benefits of lawn irrigation and sprinkler system installation insurance and its role in protecting your business.
Potential Risks for Lawn irrigation installation Firms
As a lawn irrigation business owner or contractor, you risk exposure to several hazards. Here are some examples of what can go wrong:
1. Lawn irrigation installation businesses work with heavy equipment on gardens and lawns at residential and commercial locations. During the installation process, extensive damage may be done to the property. The client may claim damages.
2. Irrigation system installation professionals work with pipe cutters and excavators. An employee or client can get hurt when installing lawn or garden sprinklers. The client may decide to seek compensation to cover their medical expenses. The employee will expect workers' compensation benefits.
3. During a storm, or a fire, furniture, heavy and expensive installation equipment, and electronics such as laptops may be destroyed. Your business would incur significant costs to replace damaged assets.
4. Workers break for lunch during installation at a client's yard. When they return, the equipment has been stolen. Without insurance coverage, your business will need to bear the cost of replacing the equipment.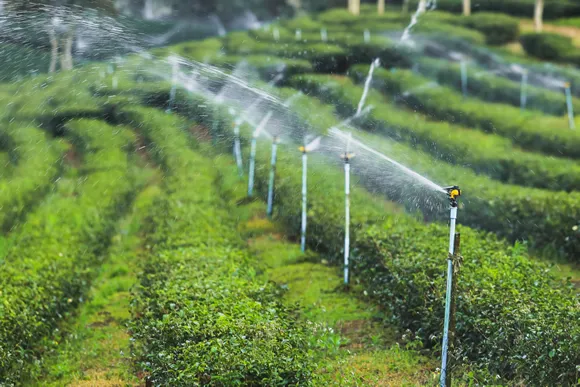 5. During transportation, the company vehicle may be damaged due to an accident. The employee sustains injuries and vehicle damage; the other vehicle is damaged, and the occupants are hurt. Depending on who caused the accident, your business may be liable for damages for bodily injury and property damage.
Incidents like these can have serious financial repercussions on your business and lead to operational interruptions. However, investment in lawn irrigation and sprinkler system installation insurance can help protect your business from potential risks.
Types of Irrigation System Installation Insurance
As an irrigation system installation contractor, you may install systems for gardens, landscape beds, and lawns in residential and commercial properties. In both cases, purchasing lawn irrigation and sprinkler system installation insurance can help you safeguard the business.
General Liability Insurance
This is an essential must-have insurance that covers common operational risks. General Liability Insurance covers liability from third-party bodily injury, damage to another's property, and personal and advertising injuries. It is crucial for litigation of certain types of third-party lawsuits.
For instance, your client or vendor is injured on the premises where an installation is being done or at your business office. General liability insurance can cover the cost of litigation, court-related expenses, settlements, or compensation if your business is sued for damages. Here is a snapshot of potential insurance coverage available in these scenarios:
1. Bodily/injury: If your client gets hurt in your office space, damages for the medical/ hospitalization bills of your client can be covered when your business is legally liable
2. Property damage: Accidental damage that occurs to a client's property during installation can be covered
3. Litigation fees and compensation: Legal defense and related expenses are covered
4. Personal and advertising injury: Claims that relate to libel and slander, invasion of privacy, false detention, wrongful eviction, and more can be covered
Business Owner's Policy
Your irrigation system installation business likely works with heavy equipment, which is expensive and difficult to replace without significant financial implications. Property such as equipment, furniture, and other electronics such as laptops may be destroyed at your location due to a fire, theft, vandalism, or tornado.
This is where a Business Owner's Policy can come into use. This coverage combines general liability with commercial property insurance to offer more comprehensive coverage. The policy can cover property losses and claims related to bodily injury, personal injury, and litigation fees in third-party lawsuits.
We are a Trusted Insurance Provider
Commercial Auto Insurance
You probably own or rent vehicles to transport equipment to and from client locations. While on the road, one of these vehicles may meet with an accident and get damaged.
In this case, commercial auto insurance pays for bodily injury liability to the other vehicle and bodily injury to its occupants when your driver is at-fault for the incident. If medical expense coverage is included, it can pay for costs not already paid out of personal injury or no-fault coverage for the injured driver and passengers.
Commercial auto insurance may include uninsured or underinsured motorist liability coverage and other state-required insurance coverage.
Inland Marine Insurance
In some instances, property damage occurs to your mobile equipment in transit, at the job site, or parked at an off-site facility, such as a warehouse. The equipment may be customized and expensive, and in the case of theft and vandalism, the business may incur considerable expenses to replace or repair the equipment.
Inland marine insurance covers mobile property that is not stationary and always kept at the business premises. It can be a valuable type of commercial insurance for contracting businesses due to the transportation and off-premises needs of your irrigation system installation business.
Workers' Compensation Insurance
As a business owner, you probably hire staff to perform various functions. You may have irrigation consultants, installation professionals, sales professionals, and clerical staff, to name a few, on your payroll.
Staff members may sustain injuries due to accidents during work. Workers' compensation insurance is a valuable investment as it can cover medical and hospitalization expenses, a percentage of lost wages, and death benefits for the worker's family. Even if employees get hurt in a vehicular accident, workers' compensation coverage is where their injuries are covered first, not on the business auto policy.
Secure your Irrigation Company Today
Building a thriving business without having commercial business insurance is almost impossible today. Even if you take great care to build a credible, trusted irrigation system installation business, there is potential for things to go wrong. Investing in adequate and timely commercial insurance can help you and your team mitigate potential risks.
Businesses can partner with a commercial insurance provider such as Insurance Advisor as we understand the various challenges irrigation system installation companies face. We provide commercial insurance, comprehensive quotes, and easy payment options for all business needs. Visit our website to learn more today!
We Are a Trusted Service Provider