As a practitioner of landscape design, you may be vulnerable to losses and risks that may endanger the financial stability of your business. Even when you and your team members aren't at fault, things can go awry.
For instance, imagine a customer entering your business premises and experiencing a slip-and-fall accident. This individual may file a lawsuit seeking compensation for medical expenses, pain and suffering, and lost wages.
Such a third-party lawsuit can exert financial pressure on your business. Having adequate landscape design business insurance can protect your business from the economic impact of losses during such times.
This article explores landscape design companies' potential risks and discusses how investing in landscape design business insurance can help build financial resilience.
Potential Risks
Landscape designers work extensively on other people's properties: residential homes, multi-family properties, and business complexes. But you probably also maintain your creative workspace and spend time meeting clients and designing and strategizing for your business.
Here are some examples of events outside of your control that can have a financial impact on the business:
During an ongoing onsite project, a visitor could trip over some tools and suffer grave injuries. They may decide to seek damages to cover their medical expenses.
Landscape designers use various tools and equipment that could damage property on a client's premises. In such cases, the client could sue for damages.
A hurricane could hit the neighborhood, causing damage to your office's computer networks, appliances, and furniture, which would require expensive repairs or replacements.
An employee working on a client's project could suffer a severe injury and need to be rushed to the hospital. They may need to undergo treatment and be unable to work for a few weeks.
During an outdoor project, onsite employees could take a break and leave the equipment unattended. Upon their return, they could find it missing due to a burglary.
While en route to a client site, the vehicle transporting equipment and crew could potentially meet with an accident resulting in passenger injuries, property damage, and damage to the vehicle.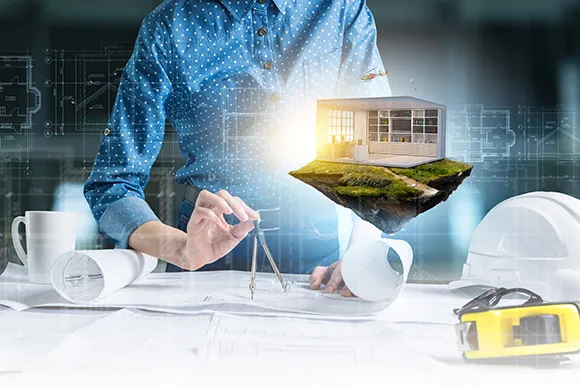 Landscape designers have the potential to incur financial losses and experience disruption of operations in the scenarios mentioned above. A safeguard such as business insurance for landscape designers is tailored to their needs. It allows businesses to take quick action and mitigate financial losses.
Types of Landscape Design Business Insurance
Here is a look at the key pillars of business insurance for those working in the landscape installation and architecture business:
General Liability Insurance
As a business owner, this is the most basic insurance that you should have to protect your business. General liability insurance covers the spectrum of third-party slip-and-fall accidents, property damage, and personal and advertising injuries, and it doesn't cover your business's owned property.
This type of insurance can go towards fighting third-party lawsuits. For instance, if a client gets injured at the landscaping site and decides to sue for damages, general liability insurance provides your company with legal defense, pays court-related expenses, and awards or negotiated settlements.
Business Owner's Policy Insurance
Landscape design practitioners use several tools and equipment to do justice to their work. It may be stored on the business premises. This type of equipment is at risk of getting damaged during a storm or stolen from the premises during a burglary.
Covered perils can also cause damage to furniture, fixtures, computers, printers, inventory, and supplies at the business premises. Another scenario where the property may be damaged is during a theft or if the office is vandalized. A business Owner's Policy covers such types of property damage.
A business owner's policy also covers general liability, such as third-party slip-and-fall accidents on the business owner's premises or while working at a job site. Property damage to customers' property while performing your work is also covered.
Commercial Auto Insurance
You and your staff probably travel with your equipment to various project destinations. During travel, there is the potential for vehicles to meet with accidents that can result in injury and vehicular damage. Investing in commercial auto insurance is a safeguard in such scenarios.
Commercial auto insurance covers bodily injury and property damage liability to the other driver and their vehicle if your driver is at fault for the incident. Your company's vehicles can be covered for comprehensive and collision physical damage.
Another beneficial aspect of commercial auto insurance is that uninsured or underinsured motorist coverage can be added, which, in some states, is mandatory. Any state-required coverage will be included on a business auto policy like a personal auto policy.
Workers' Compensation Insurance
While they work, your staff members are at risk of getting injured. In such cases, workers' compensation insurance covers medical and hospitalization costs and a percentage of lost wages., usually two-thirds of regular pay. It can also offer death benefits to a worker's family if death occurs on the job.
Contractor's Tools and Equipment Insurance
Your equipment may sometimes be stored at a warehouse facility or a client's premises during a project. You may also be transporting it to various destinations for projects. In both cases, there is potential for the equipment to be damaged, stolen, or vandalized. Contractor's tools and equipment insurance, also known as inland marine insurance, is valuable insurance that covers mobile property.
Ensure a Stable Landscaping Business
Financial stability is a goal for any business, and landscape design businesses are no different. Even highly profitable and thriving businesses are vulnerable to risks that can wipe out their finances quickly. Investing in landscape design insurance is an inexpensive way to protect the company and steer it onto a long-term path to profitability.
Landscape designers should partner with a knowledgeable, credible insurance advisor who can offer the best solution to safeguard the business' specific interests. We at Insurance Advisor provide commercial insurance for business needs, comprehensive quotes, easy payment options, helpful tips, and business insights. Insure with us today!
We Are a Trusted Service Provider