Tea and coffee shops deal with various potential exposures to loss in their day-to-day functioning. There could be damage to business property from fires, injuries from falls on wet floors, or food poisoning from spoilage and contamination. These problems could result in lawsuits leading to financial setbacks for shop owners. These risk types are why coffee & tea supplies store insurance is recommended.
Recommended Policies
Tea and coffee restaurant owners can focus on running the business when insurance policies have their backs. Some insurance policies relevant for tea and coffee shops are mentioned below:
General Liability (with Equipment Breakdown)
Commercial Property (with Business Interruption)
Equipment Breakdown
Commercial Crime
Workers' Compensation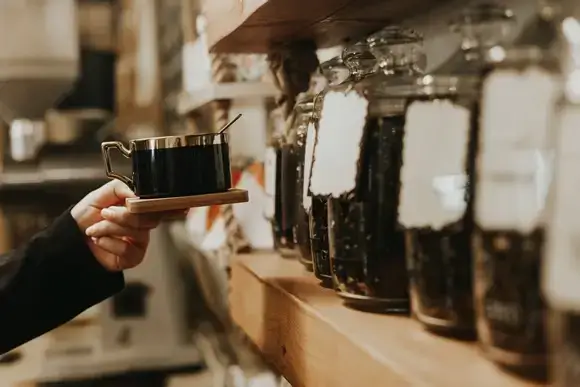 General Liability Insurance
A General Liability insurance policy will provide coverage for third-party bodily injury, personal injury, product damage, or advertising injury claims or lawsuits. The policy also includes legal representation to defend allegations associated with covered liability claims.
Here are some examples that this policy can provide coverage for:
Example 1: Bodily injury – A customer falls backwards, tripping on a misplaced chair, and injures his neck. He is holding a cup of hot coffee which falls on him and a ninety-year-old lady seated nearby. He sues the coffee shop.
Example 2: Property damage liability - A waiter walks past a table; a child accidentally runs into him, and the waiter drops hot coffee on the customer's new laptop, who takes legal action against the waiter and the coffee shop.
Example 3: Equipment breakdown - a mechanical fault develops in the espresso machine at a coffee shop. The shop owner has to wait days for it to get repaired. In this case, the Equipment Breakdown add-on pays for the lost income at the applicable rate.
Commercial Property (with Business Interruption)
Commercial property insurance protects against damage to retail or other business assets from external sources such as disasters. It includes the protection of business assets and equipment meant for running the business. It also pays for replacing equipment and furniture and rebuilding or repairing an owned or leased asset.
Business interruption (also called the business income policy) add-on can be included in the Commercial Property policy. In case of lost business income due to a problem, the policy pays for lost income as well as operating expenses of the business in the event of forced temporary closure.
Here are some examples that this policy can provide coverage for:
Example1: A short circuit causes fire in a coffee shop. The refrigerator, microwave ovens, and espresso machines get destroyed in the ensuing fire.
Example 2: A coffee shop gets damaged in a severe storm when a large tree crashes on its roof. The coffee shop has to close down for repairs for more than a month. Business interruption insurance pays for the rent and other expenses until the business can restart.
Equipment Breakdown may be endorsed on to the Property or Package policy to cover the sudden and accidental mechanical breakdown of critical equipment like coffee bean roasting ovens, espresso machines and refrigeration units.
Commercial Crime Insurance
Coffee shops handle cash from a large number of retail customers. It makes coffee shops vulnerable to thefts or robberies. This policy protects against losses caused by forgery, robbery, theft, fraud, burglary, and other crimes committed by the business's employees or outsiders.
For example - an employee flees with thousands in company cash instead of making a deposit at the bank.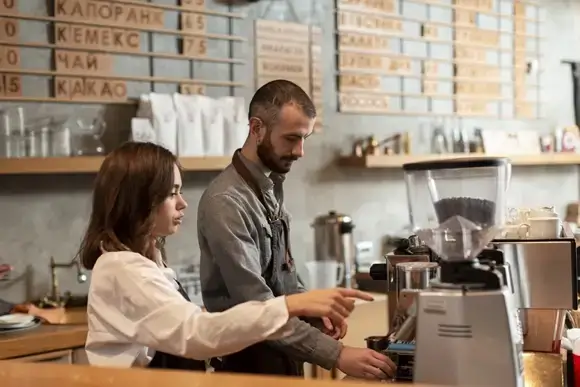 Workers' Compensation Insurance
This policy pays for employees' medical expenses and a percentage of lost income if they suffer an injury while working and cannot return to work immediately. If an employee dies at work, the policy also provides financial benefits for the employee's dependents. Each state determines benefits payable under workers compensation.
Example - An employee suffers a burn injury on their hand while handling hot coffee at the shop. The Workers' Compensation insurance policy pays for their burn care and compensates them for lost wages till they can return to work.
Comprehensive Insurance Costs
To decide on the right insurance policies to protect a business, one must look at factors such as the business's revenue, the number of people it employs, its location, the number of outlets, and its claims history. The cost of the business' policies will be based on these factors. It is important to note that any misstatements or omissions of relevant information by the client can lead to price variation or even declination or rescission of coverage.
Who Benefits?
A safely functioning business is ultimately in the best interest of the business, its employees and its customers. A good business insurance program benefits all the stakeholders.
We Are a Trusted Insurance Provider