Choose the Right Business Insurance for your Arizona Business
One of the nation's fastest-growing states, Arizona and its 641,025 small businesses employ 1.1 million residents in 2022, according to the US SBA Office of Advocacy. Small businesses account for 99.5% of all Arizona businesses.
Regardless of the size of your business, having a business insurance in Arizona is vital. Business insurance will help ensure that your company's balance sheet is protected in events such as the following:
Third-party injuries
Third-party property damage
Accusations of professional mistakes
Business auto accidents
Employee injuries
Asset damage or loss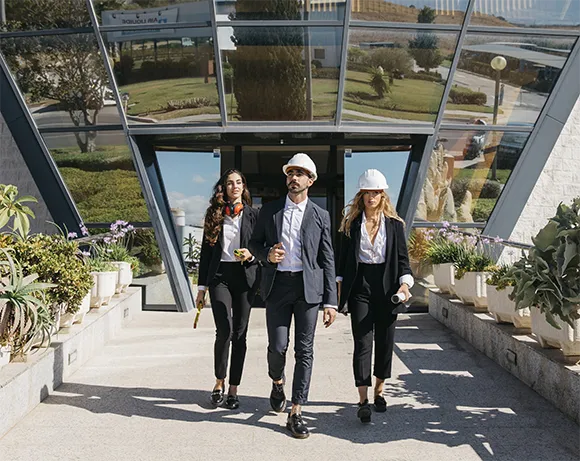 In Arizona, it is required for all companies with an employee (regardless of whether those employees are full-time, part-time, minors, aliens, or family members) to obtain worker's compensation insurance. This policy pays injured employees medical and compensation benefits no matter who caused the injury. However, there are exceptions for "purposely self-inflicted" injuries by an employee who would not be eligible for workers' compensation benefits.
Another mandatory insurance policy is commercial auto insurance in Arizona. All vehicles operating on public roadways are required by law to carry commercial auto insurance. Business-owned autos are no exception.
Arizona's minimum requirements for auto insurance are:
$25,000 bodily injury liability per person
$50,000 bodily injury liability per accident
$15,000 property damage liability per accident
Arizona owners of a taxi, livery, or limousine vehicles when in service are required to carry:
$250,000 Primary commercial motor vehicle liability per accident
$250,000 Commercial uninsured motorist coverage per accident
You can find more information regarding commercial vehicles and Arizona commercial vehicle insurance requirements at the Arizona Department of Transportation.
Types of businesses in Arizona that need business insurance:
Architecture & Engineering
Personal care services
Real Estate property management and maintenance
Consulting
Wholesalers and distributors
Professional services
Trade contractors
Manufacturers
Retail
Health care
Arizona Commerce Authority has a ready-made tool where you can select the kind of business category and find out whether your business needs Business insurance.
What types of Small Business Insurance are offered in Arizona?
Arizona business owners should consider buying different insurance policies to protect their companies from losses attributable to property loss, employee injuries, liability claims, and lawsuits arising from business operations.
The recommended insurance coverages include:
1. General Liability Insurance
General liability insurance (GL), otherwise known as business liability insurance in Arizona, protects your company from various claims. Third-party bodily injury and property damage, personal and advertising injury liability arising from your business activities.
Usually, general liability insurance quotes include the following:
Bodily injury and property damage liability
Personal and advertising injury
Medical payments (voluntary, good-will payment)
Products-completed operations (after product sale or job completed)
Damage to premises rented to you
A business can combine General Liability with Commercial Property insurance in a business owners' policy (BOP) or commercial package policy. Both of these policies are easily customized with other lines of coverage to meet your company's needs.
As a contractor or small business owner, business liability insurance is needed to defend your operation against liability claims or lawsuits. A single unfortunate event might have you served with a lawsuit. One of the ideal things you can do to protect against this is to make sure your company buys general liability insurance sufficient for your business's exposure to damaging other people's property or injuring them.
Some entities you want to do business with may require you to carry certain liability insurance limits before allowing you to work for them.
2. Business Owners Policy
Business owners' insurance, also known as BOP insurance, is a policy that bundles both property and liability coverage into one package. It's popular among small and medium-sized businesses, such as retailers, wholesalers, restaurants, and contractors.
Business owners' insurance includes two major coverages:
General Liability - The liability insurance coverages offered on a BOP are the same as those on a stand-alone general liability policy. General Liability coverage includes protection for bodily injuries suffered by a third-party, property damage, advertising injuries, and product-related liability. Incidentally, a BOP doesn't cover injury to your employees, volunteers, or sub-contractors. You'll need a separate Workers' compensation policy to protect your employees and volunteers if they get hurt.
Property - This coverage protects the stationary property owned by businesses, including buildings, contents, machinery, fixtures, and inventory. Property damage or loss is covered for perils, including wind, hail, aircraft, riot, vehicles, lightning, vandalism, theft, fire, and more. Business Interruption is also a type of property coverage.
Like all other policies, a BOP policy has coverage exclusions that the business should review. If you want coverage for something that is excluded, sometimes policy endorsements may be available to broaden your policy's level of protection.
3. Commercial Auto Insurance
Commercial vehicle insurance includes auto liability protection and physical damage for vehicles used for business. Most business-owned vehicles are not likely eligible for a personal auto policy since they are owned and operated commercially.
Commercial auto insurance isn't just for semis or heavy trucks, as it applies to other automobile types, private-passenger cars, SUVs, light pickups, vans, and medium and heavy-weight trucks. For example, businesses that rely on vehicles to run errands, carry tools, transport materials, deliver products, passengers (livery), or clients, also need commercial auto insurance policy. It is covers:
Bodily injury and property damage liability claims
Damage to company vehicles
Uninsured or Underinsured Motorists
Personal Injury Protection/No-Fault
Options such as rental reimbursement, towing, permanently attached equipment, lease or loan gap are available.
4. Professional Liability Insurance (PL)
Professional liability insurance is a form of business liability insurance that insures professionals, such as lawyers, real estate agents, architects, engineers, and accountants, from allegations of negligence or misconduct while performing their services. It is often called errors and omissions (E&O insurance).
Professional advisers need professional indemnity coverage because their services can sometimes cause unintentional financial harm to their clients. Even with the best attempts at thorough work ethics, disgruntled clients can pose a real problem when they make up their minds to sue for myriad reasons that can take months of litigation to resolve. This is where Professional liability coverage can come to the rescue in such undeserved circumstances. It is excluded from general liability insurance policies. Professional liability coverage will provide the insured an attorney to defend them in client lawsuits alleging their professional negligence, errors or omissions caused a financial loss. PL will also pay the awarded damages up to your policy limits purchased.
Many professional liability insurance policies are written on a claims-made basis, which means claims filed during the policy period must also have occurred during the policy period or after the "claims-made retroactive date". A retroactive date is added to cover claims where the incident occurred before the policy term started but the claim is made in the current policy term.
Professional liability insurance can cover claims related to services rendered in the past (after the retroactive date) but the claim is filed in the current policy term. Be mindful that any gaps of a few days to a few weeks in between the policy coverage can be harmful, especially when a client-related incident falls during the gap period. In such a case, the cost of litigation will not be borne by the insurer. Make sure to keep coverage at all times in your professional career.
5. Workers' Compensation Insurance (WC)
Workers' Compensation Insurance, commonly known as work comp, pays medical expenses and a portion of lost wages for employees injured at work or afflicted with an occupational disease. The insurance also covers employee rehabilitation and assistance for survivors.
Arizona state has established workers' compensation laws, which employers must follow. These laws ensure that employers provide coverage for the cost of work-related injuries or occupational illnesses, regardless of employee negligence.
Employees are eligible for benefits if their illness or disease is directly related to their work. Arizona state has laws that make for a "no-fault" system, meaning that regardless of whose fault it is, workers are entitled to compensation. The average compensation amount for combined types of injuries is around $41,000 per worker. Even a low premium Workers' compensation insurance can cover injuries incurred when lifting heavy items, falls, cuts, or burns. Workers' comp insurance does not cover an employee injured outside the scope of their work.
Also, Read: Do business owners need workers compensation?
6. Cyber Insurance
The cyber insurance policy protects you against incidents resulting from security breaches or disclosure of data and technology, which can lead to the theft, damage, or misuse of your company's and client's information. Cyber-attacks can lead to sudden downtime, system repairs, legal fees, and expert consulting expenses.
Options may cover damage remediation, first-party damages (yours), and third-party damages (others). This insurance coverage is also known as cyber risk insurance or cyber security insurance.
What are the Basic Requirements for Arizona Small Business Insurance?
Workers' compensation is the only type of business insurance required by Arizona. Small business owners can acquire this insurance through a private insurer or buy insurance through the state worker's compensation fund.
Minors, undocumented immigrants, and family members (of the business owner) are regarded as employees and are subject to workers' comp protection, per the Industrial Commission of Arizona. Independent contractors may file an exemption, making them ineligible for workers' compensation benefits.
Arizona doesn't require businesses to carry other insurance coverage, like general liability or BOPs, but many local customers and landlords do. They can usually specify coverage and limitation requirements in their contracts that you must meet before you are permitted to begin working with them.
What is the Cost of Business Insurance in Arizona?
Small business general liability insurance in Arizona costs around $28 per month on average for a sole proprietor business while it is $56 for an LLC with an average of 20 employees (For an insurance policy with an aggregate limit of $2 Million for software development company).
What you pay will depend on the following factors:
Risk factors - Your company's industry and its inherent exposures to losses play a major part in premium calculations. Risk levels are often different, depending on the line of insurance sought. Besides industry, the location, annual sales, payroll, number of owned vehicles, and other insured asset values also are part of your premium determination.
The types of insurance and policy limits – Although choosing lower coverage limits or less coverage may mean less cashflow for monthly expenses, it will be less expensive than paying to settle a lawsuit out of your bottom line.
The number of people you employ - Insurance providers determine workers' comp costs based on the job duties and payroll of your employees. Before you request a quote, be sure to have an accurate idea of the number of employees, their job description, and annual payroll for each.
Also, Read: How to Save Money on Small Business Insurance?
Why Choose Insurance Advisor for Commercial Insurance in Arizona?
In Arizona, Insurance Advisor can provide quotes for General Liability, Business Owners', Commercial Property, Workers' Compensation, Business Auto and Umbrella Insurance with many different insurance carriers.
Once you create your Arizona business's account, your business information is stored, and you can come back at any time to request quotes for other lines of business insurance, get a certificate of insurance, make changes to your business details, and learn about the different types of commercial insurance.
FAQs for Arizona (AZ) Business Insurance
In Arizona, Workers' compensation insurance is required and compulsory for any business with a minimum of one employee. Another mandatory Insurance policy is Commercial Auto Insurance for your business' vehicles.
Inexpensive business insurance may sound like a good idea and it is, if it covers the types of loss scenarios your business faces. A good premium on a policy that doesn't provide coverage for what your business's loss exposures are, is a waste of money.
The best way to get a fair price on business insurance is to get more than one quote so you can compare price and coverage between different insurance companies. Always read the exclusions, if they are not listed on the quote, ask for them!
Businesses in Arizona should consult with an Arizona licensed commercial insurance agency like InsuranceAdvisor.com and connect with an agent who will determine the best insurance company for your business. Most insurance companies have niches, which are those specific business industries where the carrier's premium is competitive, losses incurred are at acceptable levels, and are experienced in handling the industry claims.
Businesses only need to ask vendors and service providers to provide them with a certificate of liability insurance. A certificate will show the company's agent, the insurance company, the policy number, effective dates, and the limits insured. If any doubt remains, you can call the agent or carrier to confirm the validity of the certificate received.
Small business general liability insurance in Arizona median cost is about $56 per month for an LLC ($28 for Sole Proprietor) but premiums vary greatly because there are so many variables that go into premium calculation. Commercial insurance in Arizona is often inexpensive for small business owners. Some of the factors that determine the cost include: Your industry and risks Gross sales Location Payroll Type of business insurance coverage Policy limits and deductibles
We are a Trusted Service Provider