General Liability Insurance Workers Compensation Insurance Umbrella or Excess Liability Insurance
Fabric distributors buy fabrics directly from mills and distribute them to clothing and home furnishing designers and retailers. In doing so, they buy fabric in bulk and store it in warehouses. Considering the nature of the business, the fabric distribution business has a lot of inventory that needs protection from losses in case of fire, tornados, hurricanes, vandalism, riots, burglary, or other perils.
Data Bridge Market Research shows that the textile fabric market was valued at USD 993.80 million in 2021 and expects strong growth by 2029. Business insurance for fabric distributors comes in handy to recover from losses due to injuries, property damage, legal fees, and auto accidents. Continue reading to learn more about how fabric distributor insurance can help.
Risks and Liabilities of the Fabric Distributor Business
Like any other business, the fabric distribution business faces several risks and liabilities against which protection is essential. Some of these hazards include:
A lightning strike could cause fire at the warehouse and damage the building and inventory
A dishonest employee could forge checks and cash them
A distributor's operating system could get hacked, compromising sensitive information or holding the information for ransom
A fabric distributor advertises his product accidentally using another company's logo
Some fabric is exposed to a harmful chemical that causes skin issues to wearers.
These are a few examples of situations where a business can suffer financial losses that negatively impact distributors' businesses. However, insurance protects many businesses from such mishaps.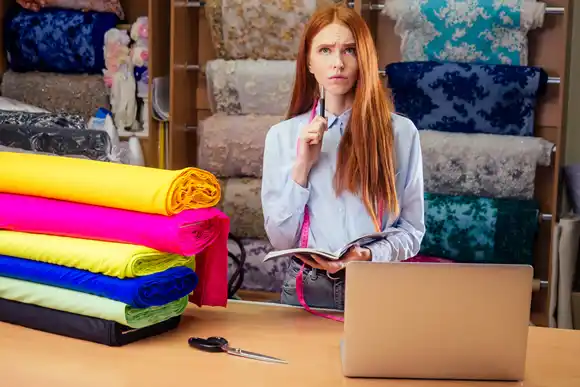 Recommended Insurance Policies of Fabric Distributors
Fabric distributor stores face multiple perils, and a few policies can mitigate those risks while the business owner can focus on smooth operations. A few coverages are included in business insurance for fabric distributors that provide ample protection, such as:
General Liability
General liability is a type of commercial insurance that is an essential policy for fabric distributors to purchase. Suppose a customer trips over a fabric scrap lying unnoticed on the floor. The damages, including medical costs from that fall, will be the basis of the lawsuit filed against the business owner for negligence. This incident would be covered by general liability insurance. General liability also provides coverage against third-party property damage, for instance, if the person who fell also damaged their cell phone in the fall. Suppose there was nothing on the floor causing the fall, but the business was still sued. The general liability would provide a defense for the insured since there was no legal liability or negligence on the business owner's part.
Commercial Property
This policy protects against damages to physical structures, equipment, furniture, and inventory, owned by fabric distributor's business for covered perils. Property insurance pays for repairing or replacing property and structures due to a covered peril like fire, burglary, vandalism, or windstorm.
Commercial Auto
Fabric distributors may have vehicles to transport goods from warehouses to retailers and other destinations. An accident can happen at any time while on the road. Hence, the need for commercial auto insurance. Business auto liability is usually required in most states. Commercial Auto Insurance provides coverage for third-party bodily injury and property damage to the other vehicle in case of a company's at-fault accident.
Workers' Compensation
Worker's compensation insurance, which is a type of business insurance, provides coverage for medical costs incurred by employees that sustain an injury while working. Workers' compensation also pays the injured employee unable to work a percentage of lost wages until the employee returns to work. In case of fatal accidents, it pays state-mandated funeral expenses and death benefits to the dependents.
Additional Policies for Fabric Distributor Business
A fabric distributor should consider the following policies:
Business Owner's Policy (BOP)
This is a bundled policy that has general liability and commercial property insurance. In particular, this is a cost-effective policy. The general liability component of this insurance provides coverage against bodily injury and property damage to third parties caused by a business's services or products.
Commercial property coverage provides financial protection for owned assets such as buildings and contents for damage or loss by covered perils like fire, windstorm, theft, or vandalism.
BOP also includes business interruption (business income) coverage that provides a revenue stream if the business can't operate because of covered damage to the building. If a fire levels the building, the fabric distributor will suffer a loss of income since they cannot function normally to bring in revenue. The revenue replacement allows the business to pay its ongoing financial obligations like taxes, a mortgage, loans, and continuing payroll.
Cyber Insurance
The increasing use of digital services has caused cybercrime to become more rampant. The risk is high at a fabric distributor's store when products are sold online or if the business relies on internet-based software for inventory management. This policy Cyber Insurance provides coverage for losses from a data breach, ransomware, or malicious software attack.
It pays for customer notification expenses, fraud monitoring services for affected clients, and stages a defense for lawsuits by customers harmed by the attack. There are two types of cyber insurance: first-party (direct loss to business) and third-party (liability to others).
First-party cyber insurance pays for expenses or losses incurred by the business that was attached. For instance, an attack shuts down an online fabric distributor, causing revenue loss, or damaging their hardware. Cyber insurance can be customized to cover these losses and money transfer fraud. First-party coverage will pay for notifying clients about a breach, credit monitoring services for affected clients, and cyber extortion demands.
Third-party cyber liability insurance provides coverage when a customer suffers a data breach and files a lawsuit against the business owner.
Cost of Fabric Distributor Insurance
Cost is one of the factors to consider when deciding on the right insurance for fabric distribution businesses. The following factors contribute to the cost of insurance for fabric distributors:
Revenue of the business
Annual payroll
Number of employees
Location of the business
Number of retail outlets
Prior claim history
Construction type and year built
Values of assets insured
Summing it up
Fabric distribution is a large-scale business and thus requires protection against many unexpected situations. Business owners should analyze their loss exposures and insurance needs before buying insurance. For more detailed information, enlisting the help of a licensed business insurance agent is recommended. Log into www.insuranceadvisor.com to get a quote or for more information.
We Are a Trusted Insurance Provider